Smart way to track keywords your website ranks for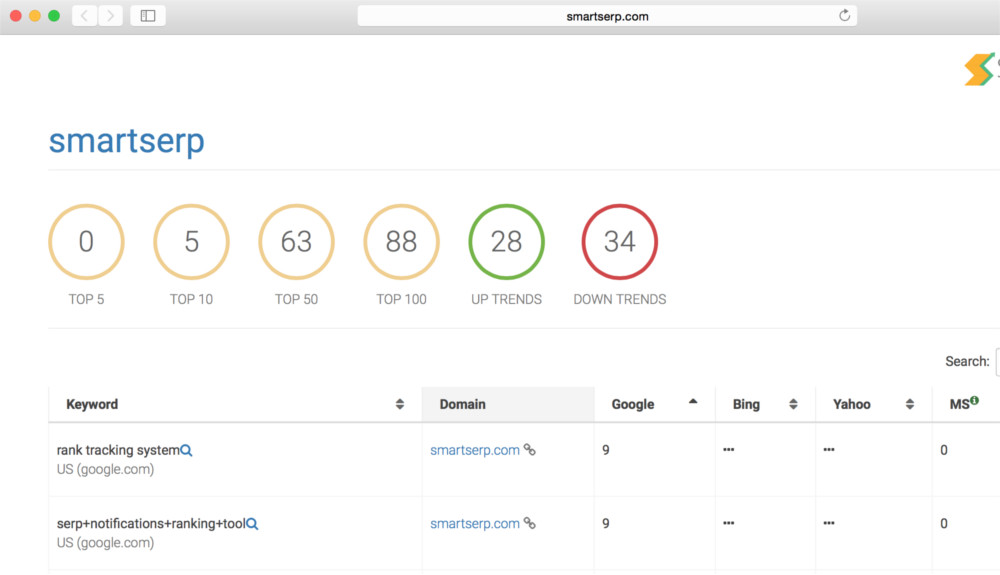 Why use SmartSERP?

Powerful SERP tracker
SmartSERP finds the keywords your website is ranking for! Keep track of all the keyword rankings for your website in a single place. Our Project Overview gives you an insight to all the project's status.

Stay updated on Ranking position
Rankings are updated daily and you will never miss any important updates in keyword ranking with our notification system.
Save Time & Money
Save numerous hours spent on checking and analysing ranking positions for your website for all the keywords. See all the keyword rankings for your website at one place.
What is Auto Keyword Discovery technology?
A rank tracker which automatically finds & suggests to add the keywords which the website is already ranking!
Our unique method unlocks most of the keywords your website is already ranking for in Google. So you won't have to manually add it to the list. You can choose to add those keywords which matters most to you. You can manage all the keyword suggestions if you want to attend to it later. More over you can also remove the domains that is being auto discovered as simple as that!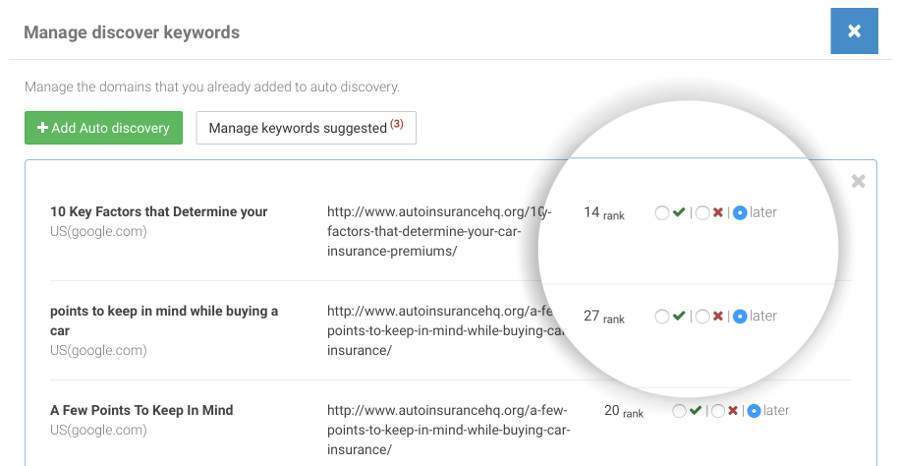 We've been featured in places like:
Venture Beat, AlternativeTo, Capterra, Next Big What, Listhunt, G2Crowd, Launching Next and many others.
Frequently Asked Questions
Got questions? We have got answers
What makes SmartSERP different?
Conventional rank tracking tools can only tell where your website is ranking from the keywords you provide. SmartSERP lets you know about keywords you didn't even know your website was ranking for.
How often are the keyword rankings updated?
The keyword ranking gets updated on daily basis. You can manually refresh keywords anytime easily from the project dashboard.
Can I switch plans later?
Absolutely. You can switch between our paid plans, or cancel your account altogether, whenever you like. We will adjust any payments accordingly.
Can I track more than one website?
SmartSERP allows you to track as many websites as you need to, on an unlimited number of domains. It is even possible to track the website of a competitor.
How long does it take to discover keywords?
Auto discovery will start discovering keywords within couple of minutes and might take upto a week to discover most of the keywords for a domain or url.
What payment types do you accept?
We accept payments from MasterCard, Visa, Visa Debit & American Express. We also accept Paypal.