Difference between On-Page and Off-Page SEO Ranking factors (+ Detailed Infographic)
While one tries to figure out SEO for the first time, they often find it difficult to understand the difference between On-page SEO and Off-page SEO. It has been a hot topic of discussion among SEO experts, webmasters and SEO beginners for a long time. Well, the answer simply lies in the ranking factors. While there are nearly 200 ranking factors that Google uses, we can clearly see that On-page factors have less positive and more negative effects on a website, while Off-page factors have more of positive effects and less of negative effects. This doesn't balance their importance in any way.
Read on to know exactly how they stack up against each other and then decide for yourself.
On-Page v/s Off-Page SEO
The question has always been around, is Off-page SEO more important than On-page SEO? The general consensus has been that both are equally necessary. On-page SEO is the foundation that is a must, but which alone cannot ensure you a great ranking. While Off-page SEO is risky in nature and builds on top of On-page SEO; it is the one that gets you the high search ranking.
On-page SEO is mostly a one-time effort that needs constant maintenance. While, Off-page needs a proper strategy and time to be regularly invested in getting the desired results (backlinks, positive PR). At the end of the day, there are no shortcuts in SEO. You need to excel at all the ranking factors, be it On-page SEO or Off-page SEO; to ensure an excellent ranking position.   
On-Page Ranking Factors
On-page SEO is about optimizing all the different elements present on the website like navigation, keywords, images, content, multimedia, domain, site speed and so on. It is all about creating the best version of your website so that your users have a great experience while they are on your website. The search engine bots look at all the different elements on your website and check if everything is maintained as mentioned in the Google and Bing guidelines. Once you know all the main on-page ranking factors and have excelled in it; a good ranking can be assured.  
Off-Page Ranking Factors

Off-page SEO is all about what happens outside your website that proves your credibility to search engine bots. For example, the number of backlinks pointing to your website, the diversity of backlinks, social media engagement, brand reputation across the web. There are numerous Off-page ranking factors that are put in place to measure your online reputation. When you keep constantly improving on all the Off-page ranking factors, you can be assured to see a consistent upsurge in the search rankings.      


Conclusion:
Well, after going through the infographic, you may have got a fair idea on how On-page ranking factors stack up against the Off-page ranking factors. There is nothing to be confused about. The exact value that is given for each ranking factor is only known to search engines. So it would a waste of time thinking about it. All that needs to be done is to ensure that your website is not missing out in capitalizing on any ranking factors and not getting any negative ranking. Once, you have ensured this, then you are set for success irrespective of what others may say.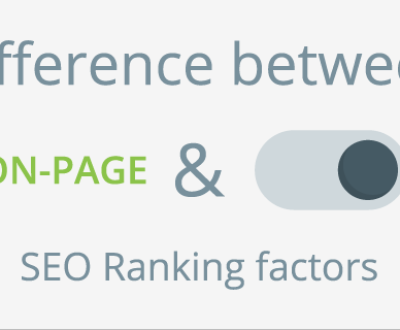 One of the most crucial areas that you need to focus…