How to make your Website Bing-Friendly?
When it comes to search engines, Google is the market leader controlling nearly 50% of the global market. There are very few search engines who can even come close to them in their market dominance. But now that Bing and Yahoo (No.2 and No.3 in search traffic) have come together to use Bing's search algorithm, the game is slowly changing. They have now become a tough competitor to Google, with close to 30% of the search traffic in the USA. Bing and Google's algorithms seem to be quite similar but Bing is more open about its ranking factors while Google tries to keep it a secret.
Here are some of the key areas to work on to ensure that your website has a greater chance of ranking well on Bing.
1> Bing Focused Keyword Research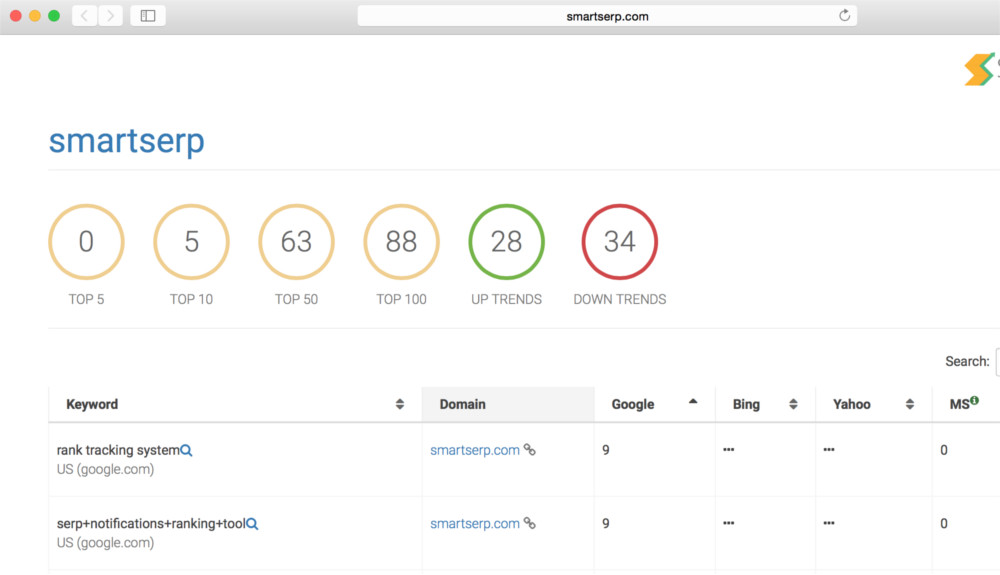 When it comes to Bing, you need to do your Keyword research all over again keeping the Bing users in mind. You can use Bing Webmaster tools to get started. Also, you can use tools like SmartSERP and SEMRush to give you keyword ideas and your ranking positions for Bing. Once you do this, you can include those long-tail keywords in each of your web pages, exactly the way to do it when optimizing for Google.   
2> Great Content is a Must
There is no escaping great content. Like Google, Bing also requires you to keep generating fresh content regularly to build your authority and credibility in your market/domain. Ensure that your content is multimedia rich with images, infographics, and videos. The better your Bing keyword research is, the more effective your content will be in attracting users to your website and also in sending strong signals to Bing regarding your domain authority.   
3> Social Signals Matter a Lot
It is clear that Bing places a higher importance to social signals than Google. For example, if one of your Facebook friends has visited a website, that would most probably come up higher when you search for something similar. Bing uses Facebook extensively to gauge the quality of websites. Also, Bing looks at all your social media channels and the followers you have, the current engagement level and the interaction history to rank your website.     
4> Ensure your site is Indexed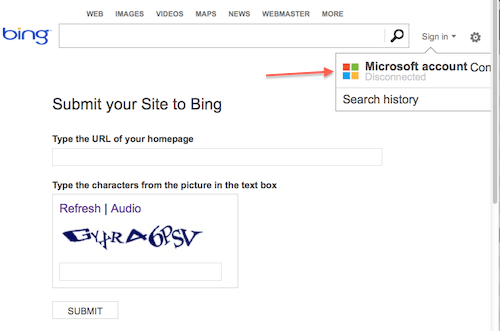 Bing doesn't index your site with the same frequency as Google does. So, it is better to actually submit your web pages for indexing using the Bing Webmaster Tools. Do remember that you just have to submit once for both Yahoo and Bing, since Bing Webmaster Tools now responsible for supporting both search engines. It is extremely simple to submit a new sitemap whenever you have new content on your website. It just takes a few minutes to crawl your website and index it before making it visible in its search results.
5> Make sure your Business Listing is Accurate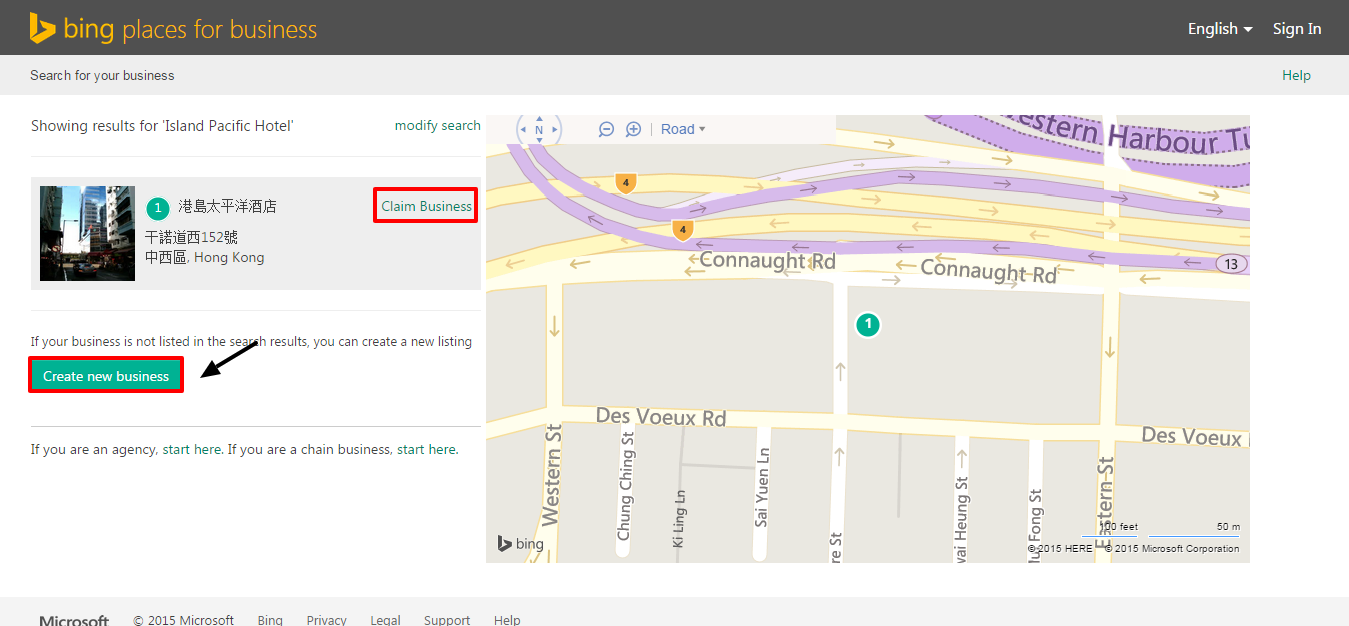 You need to make sure that on both Bing and Yahoo, your business listing has the right information. For Bing, you can claim your business here and for Yahoo, you can do it here. It is important to ensure that you have just one listing on both search engines which has all the information like contact information, photos, reviews and address. Having a strong local listing is the first step in getting visibility among your local users.
6> The Importance of Keywords in Tags
On Google, having keywords in tags is not beneficial anymore to websites; but that is not the case when it comes to Bing. Bing still gives a high priority to websites that have keywords in the titles tags, meta description, Alt tag, H1, H2 tags. So you know what to do. Don't go ahead and stuff your tags, but try to keep it as natural as possible. Also, put your content in the right categories so it's easier for search engines to know what your content is about and rank you for relevant topics.
7> On-Page Factors
When it comes to ranking well on Bing, On-Page factors play the biggest role. From loading speed, mobile-friendliness, navigation, good UI, overall UX; everything counts in boosting your page rank. Compared to Google, the best way to get a head start on Bing is to ensure that all your On-Page factors are up to the mark.  Once you have done that, your ranking will automatically be adjusted; then only the content you generate will decide your final ranking.
8> Bing Webmaster Tools
Like the Google Console which is the hub for webmasters when it comes to SEO, you need to use Bing Webmaster Tools when you are looking to rank on Bing and Yahoo. It's as powerful as the Google Console and the one-place stop to fix your On-Page issues. It gives you a list of spammy links, indexed links, keywords you are ranking for, etc. It is your control center to monitor your SEO performance, do keyword research and see all your website statistics.
Like Google, Bing also is a dangerous place to try out your Black Hat techniques. Be it cloaking, link schemes, keyword stuffing, stolen content or buying social media followers. Bing is quick to find out and ban your website, so all your efforts over the years could get wasted in a matter of a few hours. Especially your penalty will neutralize the domain age of your website that is so crucial in getting a high ranking on Bing. So don't risk your SEO efforts by indulging in Black Hat techniques on Bing, as it is especially efficient in finding defaulters and punishing them.   
Conclusion:
The Yahoo-Bing search engines can bring in a significant traffic to your website. More and more users are preferring the ad-free experience on Bing since the quality of search results are almost as good as Google. Also, Bing is especially popular among certain sections of the population like college graduates, finance/business professionals. The general income of Bing users is higher compared to Google users which mean that they have a higher chance of using your products/services. So, at the end of the day optimizing your website for Bing can give you great returns for your business by strengthening your local SEO and also capturing key audiences.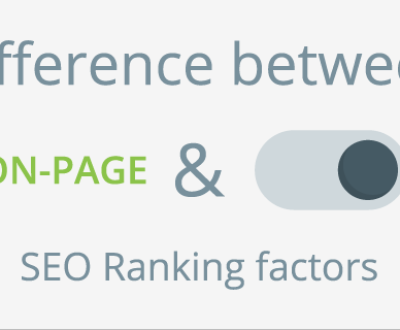 One of the most crucial areas that you need to focus…