How to Optimize your website to increase speed and performance?
In today's day and age, you can't afford to lose your customers. Having a slow loading page is one of the biggest reasons why users leave websites and never come back to them again. When your website loads faster by 1 second, it adds a double-digit traffic and engagement on your website. So this is a major way to improve your retention/conversion of users. Also, it is a great signal to ranking engines that your website is up to the mark and providing a smooth experience for users.
Let's look at some of the ways in which you can get your website to perform at its best:
1> AMP is the new Buzzword in town
This is a project by Google that has been a topic of debate recently. While, Google says it is for the good of users; it has not gone down well with many website owners/publishers. Google wants all of your data to be stored on their servers so that your website can load faster on mobile devices.
According to their research, "The Need for Mobile Speed", they found that 53% of mobile site visits are abandoned if pages take longer than 3 seconds to load.
It is a fact that Google has been trying to encourage website owners to follow certain guidelines to make their websites load faster, for years now. But, now with more than 50% of users being on mobile devices, Google has come to make this strict decision to ensure the user experience is high for its mobile users. After all, unlike desktops, you are looking at only one screen when you search on Google and you grow impatient if it doesn't load immediately.
Google is trying to force a rule where all your web pages will need to have an AMP version. And that has become a point where a lot of users are frustrated and don't have an option but do as Google says because otherwise, their website is sure to go down in the rankings.
Have a look at the AMP project vision for your understanding:
"For many, reading on the mobile web is a slow, clunky and frustrating experience – but it doesn't have to be that way. The Accelerated Mobile Pages (AMP) Project is an open source initiative that embodies the vision that publishers can create mobile optimized content once and have it load instantly everywhere."
Get started with creating AMP pages for your website with this step-by-step guide by Google.
2> Cut down the number of Plugins
Do you know how much harm poorly configured plugins are doing to your website on desktops? You should realise that all the additional HTTP requests and database queries are slowing down your site unnecessarily. It is a common problem out there. Everyone is tempted by all the amazing plugins out there, that they lose count of the ones they actually need.
Too many plugins in the front-end need custom styling or scripts to help it run smoothly and you may end up adding a lot of unnecessary JavaScript or CSS files to your website. This will not only give you technical issues, but you may also end up with crashes and security problems to add to your headache. So start analyzing which plugins your site actually requires and remove all those which are slowing down your website immediately.
3> Handle Redirects with Care
Redirects are painful, but you can't avoid them. They end up creating additional HTTP requests and increase load time. Google says that following these two tips could help your website. One is to use an HTTP smartly to send mobile users to the equivalent responsive website you have built. The second is to include  <link rel="alternate"> markup on all your desktop pages, so it is easier for Googlebots to find your mobile pages and index them.
4> Browser Caching is a Must
Browser caching is something that has become extremely common today. The first time a user visits a website, this technology enables storing copies of the website's various web pages on the user's computer. This makes sure that the next time a user visits the same website, the information is pulled from the cache rather than reloading the page once again. This saves a lot of time when it comes to loading pages and improves the overall experience for the user.
5> Never forget to Optimize Images
The simplest yet most effective way to speed up loading time is to optimize your images. Keep a few things in mind while doing it. Let the format of the image be .jpeg. Crop your images to the smallest size still keeping the quality intact. Don't forget to include the src attribute with a valid URL. Once, you are done with all these steps, you can be sure that your site loading speed is not affected by your images.
6> Make use of Compression
Heavy web pages with rich content take a lot of time to load. You can tackle this with the use of Gzip compression. It is an efficient technology that minimises the size of browser-based HTTP responses up to 70%. And as of today, nearly all browsers support Gzip, so there is no excuse for not using it to improve your website loading speed.

Go to http://checkgzipcompression.com/ and check how your website speed can be improved.
7> Set your website on Autopilot with PageSpeed modules
For your website to perform at its best, you need to minimize your HTTP Requests. After all, more than 75% of load-time is dedicated to downloading the different elements of the page. So the more components on the page, the more time it will take. Be it with images or CSS or server time, you need to keep a close look on them and modify them accordingly.
But this has been simplified now with the coming of PageSpeed Module by Google. It takes care of image optimization, with filters that are built to reduce the size of loading graphics. These filters also work to actively changing CSS files to optimized versions by compressing them. Also, it has a group of filters that goes ahead and rewrites the contents of HTML files to reduce their size.
So go ahead and download the PageSpeed modules and sit back and watch it optimize your site automatically with its numerous filters.

8> Stay in control with Pagespeed Insights
So the best way to monitor your page loading speed is to regularly check your website with PageSpeed Insights. It is a great platform to analyse the overall performance of your website. It checks both your mobile and desktop website for their performance separately. It assigns you a score between 1 to 100, after measuring your site for numerous key metrics.
Conclusion:
Do not be intimidated by the technical aspects of these suggestions. Make the most of the different tools given by Google to make your desktop and mobile website perform at its best. Once you know where you are going wrong, it won't take much time or effort to fix it.
If you still have questions, write to us at [email protected] and we will help you find a solution.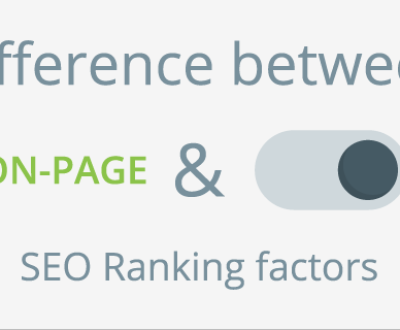 One of the most crucial areas that you need to focus…