7 Off Page Optimization Strategies (Excluding Link-Building)
Off page SEO is not only about inbound links, it is about how the search engine looks at your website and judges your authority. Off Page Optimization makes it possible for your website to be seen as informative and resourceful, thereby directly affecting its SERP ranking. The main point to note when it comes to Off page SEO, is that most of it out of your control, but having a disciplined and consistent plan will ensure you will reap the benefits in the long run.  
Linking is a big part of Off Page Optimization. But let's not confuse link building as the only part of it. We have covered the best link building tips – 12 Link Building Tips that can take you to the Top. For all the other ways you can do Off page optimization, read on below:
1. Brand Building Exercise
When you are a small business, you try to spread your presence across the web. But there are thousands of such businesses doing the exact same thing. Then how do you stand out? The answer is by becoming more than a company name, becoming a brand that people can trust. Take for example Raven, any content coming from them can be expected to be of a certain standard and you would look forward to read it. But if they write about 'How to create YouTube videos', would you be excited about reading about it?
The fact is that established companies have first become brands that people can trust by taking a niche and dominating it. So if you are in the 'Internet Marketing' domain, you must not any cost, try to cover every possible topic in sight. Take a particular sub-category and create tons of content about it. So whenever any searches for that sub-category, you are the go-to person. Everyone in the industry will come to you for that information. Once your company has become synonymous with that sub-category, you are known to industry experts, researchers and the common folk.
Exercise: Look at different company blogs and find the niche they are targeting? You will definitely make some interesting observations. (So instead of ranking for keywords, start ranking for niches)       
2. Outbound Linking (Yes, I mentioned Links)
We all know that outbound links aren't part of the Google ranking factors. But, that shouldn't stop you from generously providing inbound links to many websites. Actually, when you write a blog post, you need to show the best resources to prove its credibility. So quoting influencers and domain experts in your articles is a very smart thing to do to increase the effectiveness and credibility of your blog post.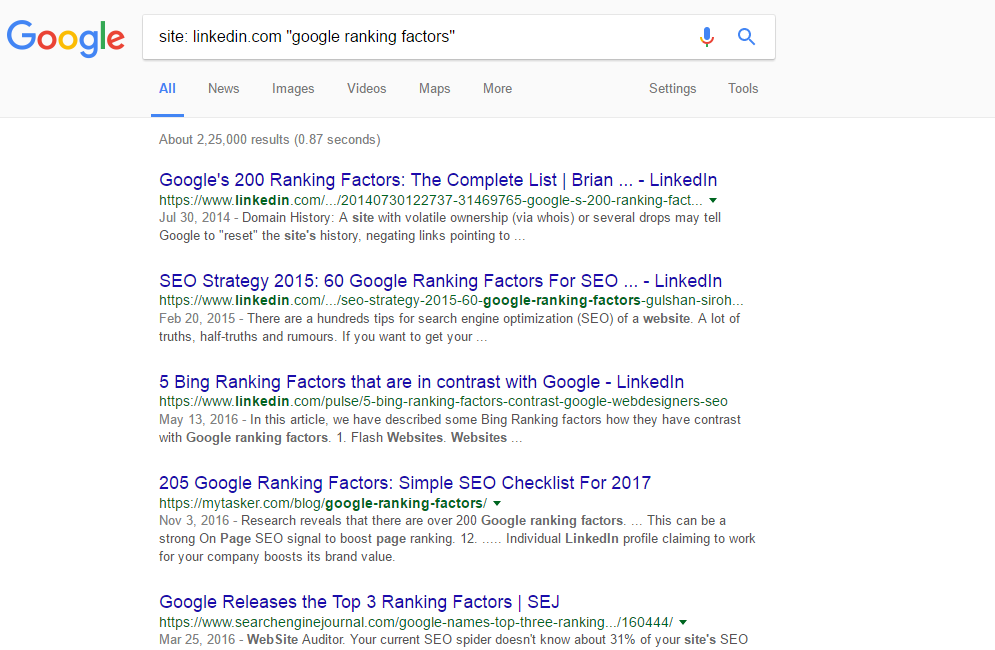 So the way you go about is by using Google to find influencers in your domain by searching for site:domain.com "keyword" See the example above. And try to link to influencers who are experts in that domain and not everybody who has used those keywords in their blog. Also, once you have published your blog, reach out to the people whose work you have linked and ask them to share your post. You will be surprised how willing they may be to oblige you.
3. Content Creation (Stuff that goes Viral):
With the quality of content, the quantity of content matters a lot. The best way to spread your name across the face of the internet is to have content to go viral. But, making something that becomes popular overnight is not in your hands. In fact it is highly unpredictable. So the only thing you can be sure of is to regularly create videos, info graphics and material that has your brand name on it and ensure that it is of high quality. You don't want to get a bad name, do you?
While another method is to create content and allow others to make use of it freely. The only advantage being, the credits that you get. Create free industry reports, surveys and simple ex plainer videos that can be used by others in their blog posts. You may not be guaranteed of a link, but your brand name is being registered in the minds of thousands of prospective customers who consume your content and appreciate it.
4. Make Friends with everyone: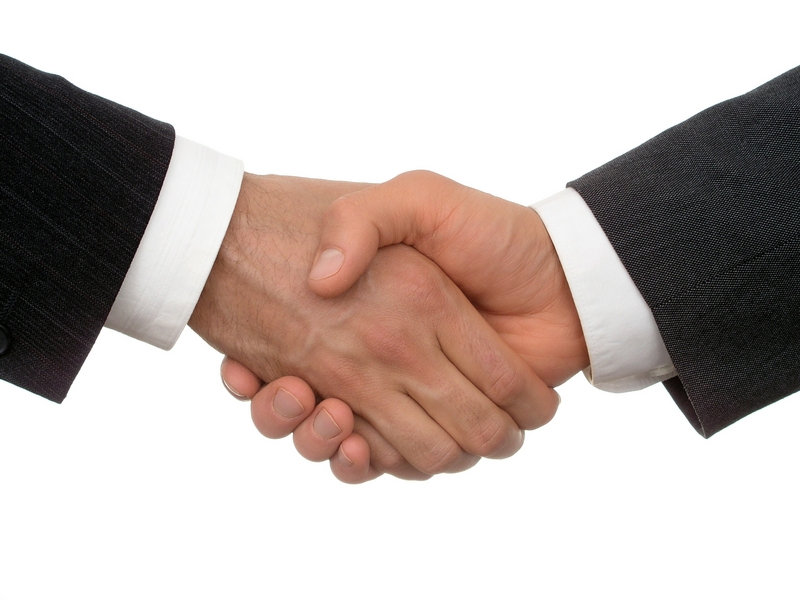 When it comes to off page optimization, networking is the name of the game. You need to cover the online landscape and build relationships that matter. Don't be greedy about getting a link or any other short term goals. When someone actually wants to help you out, they can find a hundred ways to do it. So keep your ears open. Help out startups with ideas and advice, mentor as many new bloggers, businesses as you can. Stay in touch with them on social media. Try to meet them offline at different events. Don't worry if they are in the same domain as you. Be open to sharing your knowledge with them. They will surely talk about you and won't miss an opportunity to share your content and promote your company.
5. Make your presence felt on Social Media:
Today, every small business to a multi-national company is active on social media. Nobody has a choice in this matter. It is an easy way to connect and engage a number of prospective buyers and keep existing buyers happy. Google is now taking cues from your social media to access how good you are. Google is becoming more human by the day, it is like a gossiping aunt who tries to ask everyone about information about you. So beware.
LinkedIn is an interesting place to make your impact felt on social media. LinkedIn groups are a great place for you to share information about your niche and talk about different topics in your domain. Gradually, your status in these groups will ensure that your popularity grows among your fans and also spills over into a steady stream of traffic to your website. Also, your brand will be more established among the cream of the market and word of mouth will take you places.
6. Create a Blogging Persona
Every business has a blog today, but what it doesn't have is a voice. Google is out there looking for more personalized content. Imagine, if you were Google how would you decide which blog is better, if it all sounded the same. It is now time that you added some spice to your blog, gave it a unique voice. Get a person who is solely focussed on the blog and let them write in their own quirky style. This attracts not only users but also tells Google that the author is creating original content that is being received positively by its users.
Tip: if you can't have a person dedicated to the blog, then create a persona or character from whose perspective you can create all the content from. Create videos, infographics and make him part of your brand image. Now see how differently your content is received.
7. How Google sees You:
On-page SEO is all about creating content. Off-page SEO is all about ensuring that your website looks authoritative to search engines. When search engines see that high-quality links are linking to your website, you appear to be a trusted resource that Google feels will be of value to its users. The whole point is that you need to have all the answers your user is looking for, you need to be up to date with information and have built positive relationships all across by helping others.
Look like an expert. That is way out. Even when it comes to social media, you are there to share information and help people solve their problems. You must appear to be not only having a great UX on your page but, the overall experience of visiting your website and accessing information should be nothing less than excellent. That is what Google wants to measure in the long run, whether you are worthy of being on top of the SERP. You need to prove it to Google by conducting yourself on the web as a model website that has top class information and is ready to help users who seek it.
Conclusion:

Google is watching every step you make. All you have to is to ensure that you are sending the right signals to it. What are the right signals? Are you consistent in publishing, are you trustworthy, are people talking about you and do you look like an expert in your domain? Ask yourself these questions before you set out to work on your Off Page SEO.
The simplest way to go about it is to excel in a particular niche and be the first one to create content around the latest happenings in it. Your website needs to look like the best resource for that particular topic. So when users happen to search for that particular topic, they will definitely happen to see your content. Build a brand, be patient, build relationships and wait for the results.  
Do you still have questions? Send them to [email protected] and we will be glad to help.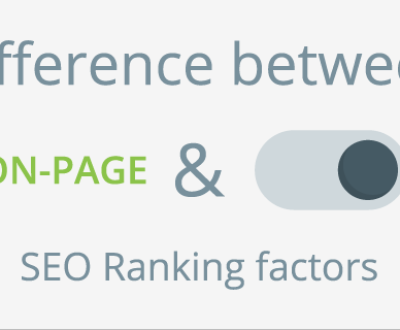 One of the most crucial areas that you need to focus…