Learn how to measure your SEO success
We all know the time, money and resources that organizations today are investing to get their SEO right and get them the desired search ranking. After all, a brand or product is going to be hugely benefitted by the large amount of traffic that is brought in by a great Google search ranking. So what is missing that is stopping websites from getting the desired results even after much effort?
If you don't monitor and analyze the data around you, how will you be able to know where you are going wrong and what is working well for you? SEO is all about adapting to the environment you are in and adjusting consistently, till you get the results. Measuring and analyzing your key metrics is a process that you need to do month after month to stay on top of your SEO game.
Let's find out the 10 ways in which you can analyze your current situation and work to improve it.
#1 Is your Link Building Strategy working?

How do you find out if your link building strategy is working?
Ahrefs is the best tool out there to find out the exact number of backlinks to your website and many other important metrics to monitor the success of your SEO campaign. When you go ahead and execute a particular strategy, you can check how many backlinks you have received in that particular period (example: For the month of Jan 2017). Also, you can keep a close eye on link quality and make the needed changes in the way you acquire links and which websites you target.
#2 How many Keywords does your Website Rank for?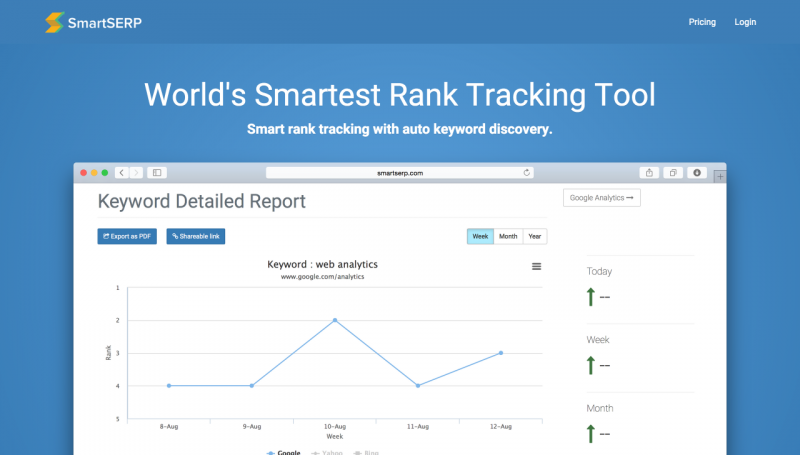 Don't you want to know all the keywords that your website is ranking for? You may have missed out on a number of long-tail keywords for which your website might be ranking without your knowledge. SmartSERP is a keyword tracker that does exactly this for you. While you may be unnecessarily targeting competitive keywords and losing out to your competitors, using this tool you can get all the possible keywords from which you can choose the best one's to target (even your competitor's keywords). Also with this tool, you can monitor your targeted keywords on a daily basis and see if your keyword targeting strategy is working.  

#3 Are you Monitoring the Traffic on your Website?

There is a lot to learn and benefit from knowing how many users are visiting your website and how much traffic is purely organic coming from search engines. You must be already using Google Analytics, if not sign up for it now. Using this extremely useful tool you can monitor the daily traffic that is coming through search engines. Now go ahead and try to analyze what you are doing right to deserve that traffic and see if your plans are leading to an increase in traffic. 
#4 Do you know how your Content is Performing?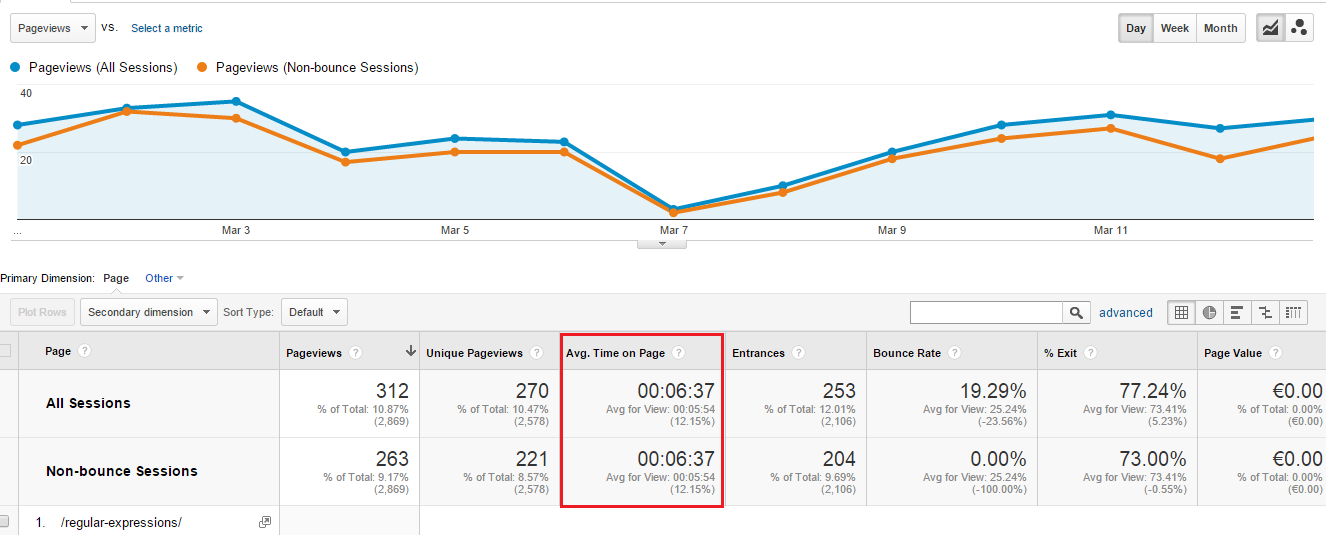 Are you keeping a watch on how users are interacting with your content?
Is your content satisfying their needs? You can check this using Google Analytics, where you can see how much time a user is spending on your pages. You can understand a lot by analyzing the bounce rate (people who leave after visiting just one page), the number of pages users visit and on which they spend the most/least time. Understanding the user's behavior will give you a fair idea on the pages that work is needed to improve and also pages that are working well, so that structure, quality of content can be replicated on the other places on your website.
Finding it difficult navigating Google Analytics: Try out Analytics Academy by Google.
#5 How well are you Achieving your Goals (Conversions)?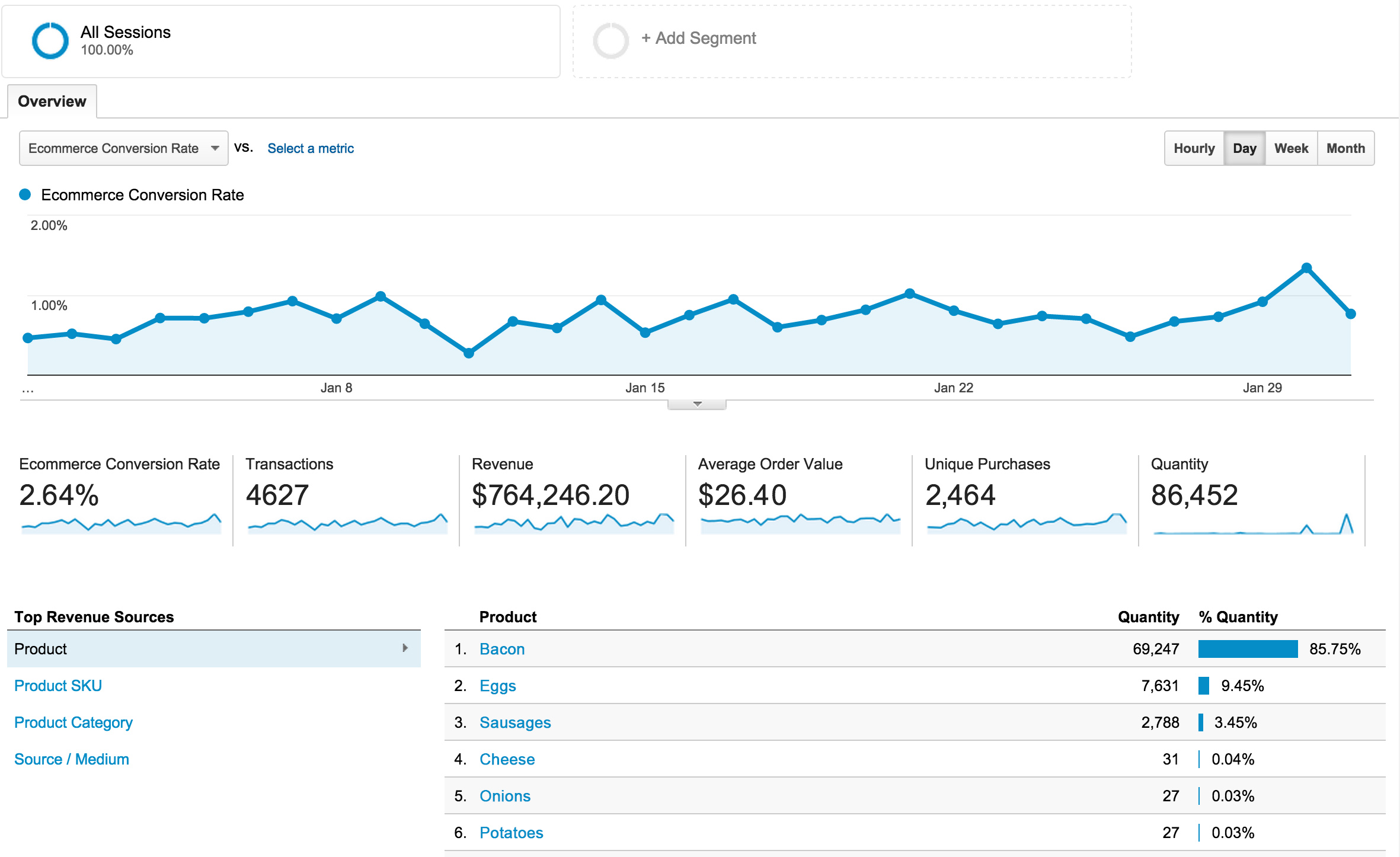 The main goal of all your SEO efforts is to get traffic to your website and see to it that they become your customers. The crucial part is converting the user from being a visitor on your website to an excited customer of your product. You can use the option on Google Analytics to track your conversions in detail. It will give you a complete breakdown of the search traffic and the conversions you are currently making from it. Also, a simple way to track your conversions is checking for the traffic on a 'Checkout' page that only appears after a transaction. This exercise is a great place to get insights on how your business objectives are being met and will help you make a good decision on how much you should invest in SEO vs PPC vs digital marketing.

#6 Do your Users Trust you?

If your website is designed well, your users will not leave after visiting just one page. They will be curious to explore other pages and check out the quality content you have created. If you are able to create a positive impression in their mind, they will come back to your website for more information at a later stage. So check out Google Analytics, to see the percentage of users who are returning to your website compared to the total users.   
The best way to increase the chances of users returning to your website is convincing your users that you have a ton of quality information on your website. So when they land on any particular page, they must have links to various other similar and interesting pages on the right-hand side as well as at the bottom. So, like how people keep surfing on YouTube, they will end up spending a lot of time of your website and once they like it, you can be assured that they will come back again for more. This is the first step in ensuring that they trust your brand and are ready for doing business with your organization.  
Want to create a customized Google Analytics dashboard for yourself: Try this tutorial by Google.
#7 Is your Traffic consistent across Devices?

Today, more than 50% of search traffic is through mobile devices. There is no excuse to neglect any channel that increases the amount of traffic coming to your website. Your website must be fully optimized and responsive on all devices to welcome your traffic and make them interact smoothly with your content. To be aware of how much traffic is coming from each platform, you can use Google Analytics to keep a close eye on the metrics and look out for drastic changes.
Also, you need to dig deeper to understand the major differences between a tablet traffic, mobile traffic, and desktop traffic. This will give you the opportunity to give your users better solutions that will increase engagement and lead to more number of conversions for your business.  
#8 Is your Website being Indexed regularly?

Unless search bots are regularly crawling your website, your fresh content won't be visible on search engines. If you are having issues with your website, when it comes to On-Site SEO, you can expect Google bots crawling your website with bigger intervals. The simple equation is that the better your website, the more Google bots come back to crawl your website (even multiple times a week). Go to Google Search Console and you can find all the crawl statistics you will need to monitor. Make sure to see that your website is attractive to Google bots and you are sorted.       
Also, use the Google Search Console to check all your website pages that have been indexed. Find crawl errors and rectify it immediately so that your web page is not deindexed by any chance.   
After all, you need to ensure that all your content that you have on your website is visible to search engines and is ready to be ranked accordingly.


Conclusion:
Tracking your vital metrics are an important part of your job if you want to ensure that all the money and effort you are putting for SEO doesn't go waste. And the end of the day, we all know that data doesn't lie. Trust the data to give the answers to the problems you're facing with your SEO campaign.
The best way to predict the future and succeed in it is to understand the past using the data at your disposal. So don't avoid allotting time to analyzing your website data at regular intervals and trying to understanding the correlation between your efforts and the results. It will the most productive time that you will have spent for your future SEO success. Trust us on that.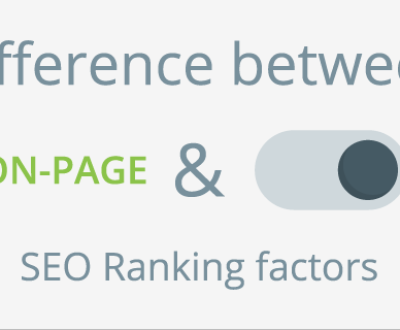 One of the most crucial areas that you need to focus…